Is it Good for the Children?
We believe that before making decisions that will affect our children, we need to first think about this question: Is it good for the Children?
Our Involvement: Child Care Resources of Rockland is committed to ensuring high quality child care for all children. As one of 34 NYS Child Care Resource and Referral agencies, we are a member of the Early Care and Learning Council (ECLC). We are also members of Winning Beginning NY (WBNY) and Child Care Aware of America (CCAoA). These organizations are leaders in state and national early care and education advocacy efforts.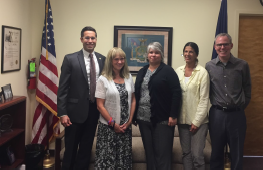 Advocacy Events
Our Annual Meeting
Child Care Resources of Rockland holds an annual meeting that is open to the public, families, early childhood professionals, businesses, legislators and other interested individuals.
Letters Make a Difference! Your voice counts! Personal letters can make a huge difference in the actions of your legislators. In a letter writing campaign, ten letters can be perceived as a ground swell of support and can push a legislator into action on an issue. Most legislators are conscientious about their mail and consider the views of their constituents when they deliberate on an issue. Many legislators respond to their constituents and share their views. Phones and emails also have an impact, so please reach out to your representatives in a way that works best for you.  For additional advocacy information, please call Executive Director Vicki Caramante at (877) 425-0009 x417 or email vickic@rocklandchildcare.org.
We've Made it Easy for You to Locate Your Representatives! 
Find your Federal and NY State Representatives here 
Find your County Representative here
Child Care Aware of America (CCAoA): Child Care Aware® of America works with more than 400 state and local Child Care Resource and Referral agencies nationwide. To achieve our mission, our organization leads projects that increase the quality and availability of child care, undertakes research, and advocates child care policies that positively impact the lives of children and families. Read A Compass to Guide the Way: Child Care Aware® of America's 2020-2022 Policy Agenda.

Child Care Works is a long-term movement for families, grandparents, child care providers, state leaders, policymakers, and advocates who want better policies that support quality child care for all. Child Care Works is a product of Child Care Aware® of America, which is a national membership-based nonprofit organization working to advance affordability, accessibility, development and learning of children in child care.
Winning Beginning NY is the state's early care and learning coalition. It supports investments and policies that move New York State toward a comprehensive early learning system. Winning Beginning NY believes that in this time of fiscal crisis our State must preserve, protect, and increase access to high-quality early care and learning programs.  These programs, all of equal priority, are essential for children's success and our State's economic recovery

Early Care and Learning Council (ECLC) The Early Care and Learning Council believes that investments in early childhood have both short and long term economic benefits for our state, its. families, and the current and future workforce. Learn more about Early Care and Learning Council's Policy and Advocacy  
Empire State Campaign for Child Care (ESCCC) Our mission is to achieve equitable access to quality child care for all children and working families in New York State. Make a difference! Change happens when you take action. Whether you're an individual or representing an organization, agency, business, or group, sign on to our campaign to help make affordable, accessible, quality child care a reality for all New York State children and families.

Together New York Early Learning Program Data Systems A report by the National Center for Children in Poverty This report shows that data collected by state and local agencies on young children and the programs serving them have enormous potential value. Families, service providers, policymakers, researchers, advocates and others can use the data to better understand children's needs, improve access to services, strengthen services, enhance the efficiency of services, and understand the short- and long-term impacts of services. See the report.
United Way of Rockland County: United Way's mission is to advance the common good; it's vision is a community where individuals and families have the skills to achieve a quality education, economic security and a healthy lifestyle. 
Do You Know ALICE?  ALICE, a United Way acronym, stands for Asset Limited, Income Constrained, Employed, and represents the growing number of individuals and families who are working, but are unable to afford the basic necessities of housing, food, child care, health care, and transportation. You can learn more about the ALICE Project and read the 2020 New York report.
---
AfterSchool Works! New York, 230 Washington Avenue Extension, Albany, NY 12203 Phone: (518) 694-0660 Fax: (518) 690-2887
Every Child Matters (ECM), 1023 15th Street NW Suite 401 Washington, DC 20005 Phone: (202) 223-8177 Fax: (202) 223-8499

National Association for the Education of Young Children (NAEYC), 313 L Suite NW Suite 500 Washington, DC 20005 (202) 232-8777 / (800) 424-2460

National Association for Family Child Care (NAFCC), 1743 West Alexander Street Salt Lake City, UT 84119 Phone: (801) 886-2322 Fax: (801) 886-2325

New York State Association for the Education of Young Children (NYSAEYC), 230 Washington Avenue Extension Albany, NY 12203 Phone: (518) 867-3517 Fax: (518) 867-3520