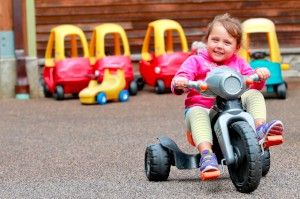 Visiting several child care programs is a crucial part of your selection process. What you observe during your visit will tell you many things about a program.
Print out and take along our checklists and suggested questions to ask during your child care program visits.
Home-Based Child Care Brochure and Checklist
Center-Based Child Care Brochure and Checklist
School-Age Care Brochure and Checklist
Take notes on your observations and the answers given to your questions by providers, teachers, and/or directors. These notes will be helpful in determining further questions and to differentiate between the programs you have observed,
Allow plenty of time to tour the entire facility, both indoor and outdoor spaces.
Schedule an initial visit by yourself, and then bring your child on your second visit, if possible.
Make sure you observe the group that your child would attend,
Feel free to follow up your visit with further calls to the director or provider.
Be sure all your questions and concerns are addressed so that you can feel confident about the care your child will receive.
Ask to meet all of the staff who will care for your child during the day.
Visit New York State Office of Children and Family Services (OCFS) for information regarding licensing and regulatory compliance history of any child care provider who is or was licensed by OCFS.