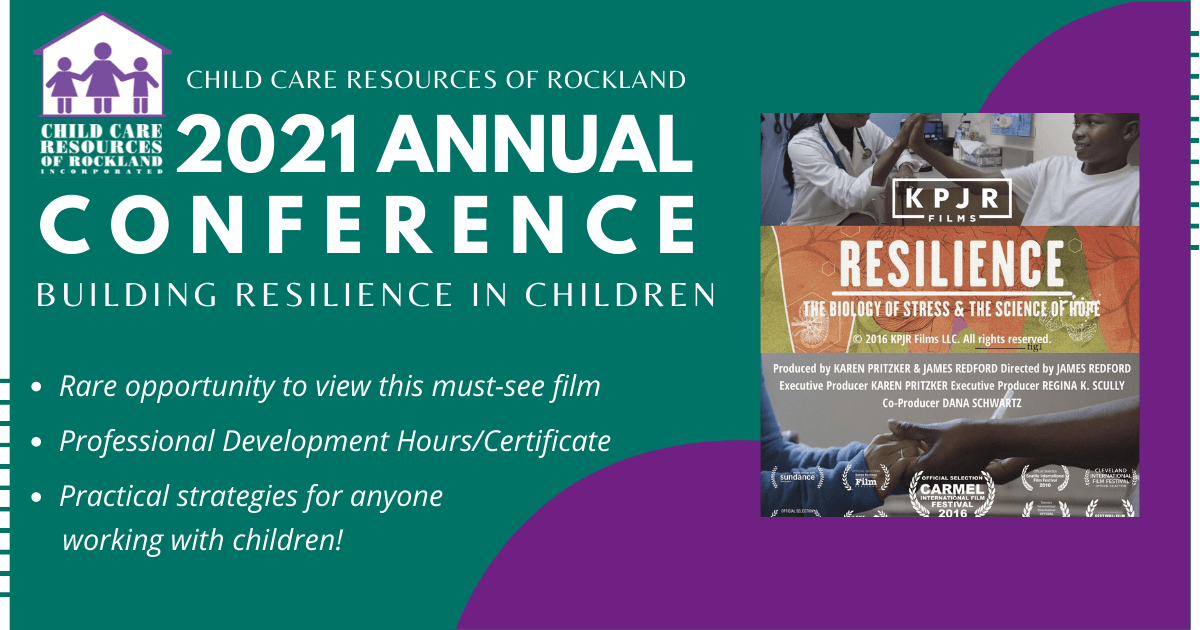 The 2021 Virtual Annual Conference, "Building Resilience in Children," is being held on Saturday, November 6, 2021 from 9:00am – 12:00pm.  Highlighted this year is the unique opportunity to watch the sought-after film, "Resilience – The Biology of Stress and the Science of Hope."  Presentations and breakout sessions will address Adverse Childhood Experiences (ACEs) and provide strategies to protect our children from toxic stress. Register early!  Registration ends on November 5th at 12:00pm.
Who Should Attend: Child care providers, social workers, psychologists, educators, parents/caregivers, law enforcement, policy makers, and anyone with children in their lives.
Participants will receive 3 hours of training credit and a certificate for one free training with CCRR!
HAVE SOME FUN! Join Conference Bingo!  Click here for your card and instructions.
Your registration includes a "Swag Bag!" Pick yours up from our office before the conference between the hours of 8:30am & 4:30pm. (Includes many goodies and the Conference agenda.)
Our presentations and workshops will be facilitated by Leeann Folgleson,MSed, PhD and Natalie Hong M.S. of Kurtz Psychology.  We look forward to meaningful and productive discussions following the viewing of the film.
This conference provides the rare opportunity to watch the award winning and sought-after film "Resilience – The Biology of Stress and the Science of Hope." 
---
Due to the COVID-19 pandemic we are currently conducting virtual trainings with very limited in-person training. Visit our Calendar of Events to see our full schedule of offerings. If you have a question or a specific training need, please email info@rocklandchildcare.org