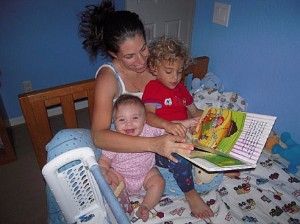 One of the biggest challenges for parents is balancing the needs of their children and their careers. Managing a household and working takes a great deal of organizational and communications skills, as well as a strong sense of priorities. As your child grows, the balance may shift and the issues change, but finding a way to manage the balance of work and family will remain important. For some families, having one parent stay at home with their children during the day is a viable option. This of course depends on financial considerations as well as parents' work schedules. Many families find that having alternating schedules, when one parent works nights and the other works days, allows for this arrangement. A family with a parent at home may also have their child attend a part- time child care program to give them an opportunity for structured social interaction with other children their own age.
For your consideration:
Can your family afford to have one parent at home?

Consider your monthly budget carefully.

If working alternating schedules, you must be prepared to have limited time together as a family or couple.

Are you the type of person who feels comfortable connecting with others?

Are you comfortable when you are on your own during the day or do you tend to feel isolated?

Do you have a career that you feel strongly about, and would it feel hard to take time off or leave it completely?

Do you think that it would benefit your child and your family to have one parent stay at home? In what ways?

Have you thought about ways to have your child interact with other children if you decide to stay at home?
Guide to the Rights of Breastfeeding Employees in New York
The United States Breastfeeding Committee published the Guide to the Rights of Breastfeeding Employees in New York. Representatives from NYSDOH worked the NYSDOL and the NYS Breastfeeding Coalition on this effort, which was funded through a cooperative agreement with the U.S. Breastfeeding Committee by the Centers for Disease Control and Prevention.