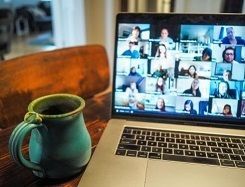 We are working on building back our Professional Development program and have several virtual opportunities scheduled for you!
In May, we are facilitating a Director Network Meeting, a Provider Network Meeting, and an Infant Toddler Network Meeting (Ouch! Biting Hurts!). 
A Child Abuse and Maltreatment Prevention workshop will be offered in English and Spanish.  
Breastfeeding is Welcome Here will take place in June (offered in English and Spanish). If you're interested in becoming a Breastfeeding Friendly designated child care site, you won't want to miss this training!
Adverse childhood experiences—commonly known as ACEs —affect children and families across all communities. We hope you'll sign up for our two-part ACEs series in July to learn more about ACEs and what each of us can do to help prevent them. 
REGISTRATION
For more information and to register for any of the above events, browse our online calendar here, and keep checking this page (or the calendar) as we will continue to add more professional development opportunities.
QUESTIONS
Please direct your professional development questions to Elaine Trotta, elainet@rocklandchildcare.org, 845-425-0009, x421.