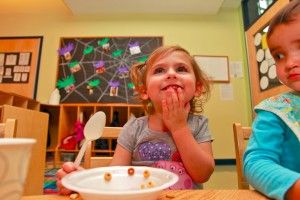 The Child and Adult Care Food Program (CACFP) is a federally funded program administered by the NY State Department of Health (DOH) and sponsored by Child Care Resources of Rockland. The program provides partial reimbursement for providers who choose to participate. The food program exists to make sure children are well nourished while in the child care environment and to help keep child care costs more affordable by defraying the cost of food.
Parents whose children are cared for by a provider who participates in the Child and Adult Care Food Program do not have to purchase or prepare the food for their children. The focus of CACFP is to ensure that nutritious meals and snacks are served in child care homes. These meals must meet the nutritional standards set up by the USDA (United States Department of Agriculture). CACFP is one of the key building blocks for good nutrition and quality family child care. The program helps providers plan healthy meals and encourage healthy eating habits in children. It encourages children to eat better because of the nutritious and appealing meals being served.
Protecting, promoting and supporting breastfeeding is an important part of public health. The Child and Adult Care Food Program (CACFP) in New York State invites you to join a national effort to support breastfeeding moms and babies. Click here to learn how your home-based program or child care center can become breastfeeding friendly.
If you are interested in becoming a CACFP provider, please contact Chantel Pittman at (845) 425-0009 x633 or email chantelp@rocklandchildcare.org.
The average annual reimbursement to child care providers in Rockland County is over $600,000. As a CACFP sponsor we also:
Offer free nutritional workshops that can be applied toward NYS Office of Children and Family Services (OCFS) state mandated training hours

Assist providers in maintaining compliance with program requirements and NYS OCFS regulations

Offer a monthly "Food for Thought" newsletter with news, information and recipes

Maintain a courteous, professional staff to answer your questions

Free online claiming for providers using free "Minute Menu" software. Using only Internet Explorer, you can log into into the secure WebHX wesite and record everything the Child and Adult Care Food Program requires in seconds!