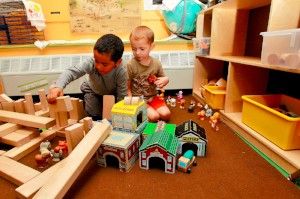 Infant Toddler Mental Health Consultant 
The ITMH Consultant will not provide direct therapeutic services to children in this role; rather, the Consultant will focus on building the capabilities, skills, and mental health competencies of the early care and education staff in their process. Overall, the goal of the infant toddler mental health consultation service is to focus on promoting positive interactions between adults and the children by using a mental health knowledge base to inform decisions and strategies. The Consultant will provide an intensive and targeted approach that will bolster existing work to improve overall quality of early childhood education settings. By utilizing a problem-solving approach to increase the capacity of the infant and toddler caregivers, it is expected that the Consultant will help child care staff adapt to a model of care that reduces challenging behaviors, increases pro-social behaviors, and reduces expulsions and suspensions in early care and education settings. 
The ITMH Consultant will work in partnership with Infant Toddler Specialists and other ITMH Consultants in the Infant Toddler Regional Network (ITRN) and throughout New York State. All services will be culturally responsive and respectful of children, families, and early care and education staff.  The ITMH Consultant will also support the evaluation of the project by collecting and maintaining required data. 
Essential Functions 
Programmatic: 
Provide on-site consultation to early childhood programs that reflects and respects the philosophy of early childhood mental health consultation practices, the assigned program, and that is culturally responsive to the child, the caregiver, and the early care and education setting.  
Promote positive mental health and social-emotional well-being by providing education on mental health issues; develop an understanding and respect for early childhood mental health within the early childhood setting.  
Model the best uses for developmental, social and emotional screening tools; support implementation within the program.  
In conjunction with the early childhood program, design and support implementation of program practices responsive to identified behavioral and mental health concerns of an individual child or group of children; support strategies to promote overall positive social-emotional development of infants and toddlers.  
Share resources for social-emotional learning in early care and education environments.  
Assist infant and toddler programs in building appropriate referral networks and processes for connecting with outside community-based services.  
Collaborate with early care and education program administration to develop inclusive policies and practices for working with all children, and to implement effective policies and practices that promote effective self-care strategies for staff.  
Participate in ongoing continuing education, which may include, but is not limited to the following topics: ITMH best/evidence-based practices, Adverse Childhood Experiences, Cultural Diversity & Humility, DC 0-5 Assessment, Early Childhood Mental Health Assessment and Strategies. • Complete all required documentation timely and accurately.  
Attend all required supervision including but not limited to: model, data, clinical.  
Other duties as assigned and required by local CCR&R. 
Technology and Data System: 
Participate in weekly data and evaluation support calls with outside partner to assure the consistent & accurate use of data collection systems.  
Data analysis for interpretation & planning for quality improvement.  
Maintain documentation specific to position.  
Maintain certification for all assessment tools.  
Maintain confidentiality of all client protected health information and adheres to all HIPAA related policies and procedures.  
Community Engagement:  
Participate in external committees, task forces, community meetings, and visibility events as requested to promote the program, and to build a professional practice network on local, regional, and/or national levels.  
Participate in monthly ITMH Consultation calls to build an effective statewide practice.  
Professional Conduct: 
Maintain confidentiality at all times regarding personnel matters, health and employment information, business practices, and client information.  
Engage in respectful and professional interactions with community members, clients, peers, and colleagues. Work in a manner that complements that of others according to policies and rules of workplace practice.  
Contribute to the development of work place and professional relationships based on acceptance of cultural diversity.  
Demonstrate respect for cultural diversity in all communication and interactions with coworkers, colleagues, and clients.  
Travel throughout the County (region) will be required.  
Willingly conduct other duties as assigned.  
Qualifications: 
Master's Degree in Psychology, Social Work, Counseling or other related counseling/mental health degree.  Licensed or Licensed-eligible preferred. 
Three to five years of experience working with children and/or families, and/or early childhood settings 
Working knowledge of infant and early childhood typical and atypical development, early childhood mental health, adverse childhood experiences, family systems 
Demonstrated experience with or attention to equity, inclusion and cultural humility 
Strong written and verbal communication skills 
Demonstrated ability to engage with diverse audiences, specifically racially, ethnically and socio-economically diverse communities 
Ability to work independently within a flexible schedule and practice effective time management 
Capacity to work collaboratively with a team of various professionals 
Knowledge of Microsoft Office/Office 365 
Pluses: 
Dual advanced degree in mental health and early childhood education  
Demonstrated experience in an early childhood program, early intervention or early childhood mental health program 
Working knowledge of evidence-based curricula to promote early childhood mental health, DC 0-5, and formal and informal social-emotional assessment tools 
NYSAIMH Infant Mental Health Endorsed or related competencies or experience 
Bilingual/multilingual 
Employees are expected to work in the office Monday-Friday, 8:30 AM to 5:00 PM plus evenings and weekends as required. A valid driver's license and proof of insurance are necessary as travel within the county and beyond is required. Salary commensurate with experience. CCRR is an equal opportunity employer. 
Application deadline is 5:00 PM Monday, January 4, 2021. Please send resume, cover letter, and three references to: Vicki Caramante, Executive Director -  vickic@rocklandchildcare.org  
---
Administrative Assistant – Health Care Consultancy
Job Description: Under the direction of the Director of Program Standards and Support Services and in tandem with our Nurse/Child Health Care Consultant:  
Assist CCRR's Registered Nurse/Child Health Care Consultant to guide child care programs participating in state funded Universal and Full-Day PreKindergarten on staying compliant with regulatory requirements.  Tasks include but are not limited to:  
Maintaining meticulous, accurate records  
Assist the Nurse/Child Health Care Consultant with reviewing immunization records of PreK applications as needed  
Contacting family health care provider(s) for medical info missing/omitted from PreK application(s) as needed  
Making program site visits to review immunization records/compliance  
Completing the Annual BMI/co-morbidities survey per NYSDOH   
Assist Nurse/Child Health Consultant with addressing needs of children with special health care needs with both program and parent  
Giving technical assistance ensuring NYSDOH Health Immunization Survey is complete  
Providing and/or assist in mandatory health related trainings   
Assist in tandem withNurse/Child Health Care Consultant in the ongoing contact with providers and programs to include giving technical assistance using a variety of methods such as face-to-face, teleconference, phone, mail, and email.   
Keeping current on all rules and regulations and other publications and requirements as they are released.    
Assist in data analysis and reporting to the contract agencies.  
Collaborating and sharing information with CCRR staff and participating in a variety of internal agency meetings.   
Other duties/activities as assigned. 

Qualifying candidates will have: 
Current New York State License RN, LPN (preferred). RN/LPN nursing student candidate may be considered. 
Minimum one year of experience related to community health, pediatrics, infection control, occupational health and safety, advocacy.
Strong interpersonal, verbal, and written communication skills.
Strong computer skills, particularly Word and Excel.
Strong research and analytical skills.
Ability to organize and coordinate multiple tasks.
Knowledge about or experience with any of Rockland County's diverse cultures is preferred; the ability to speak a second language is a plus.
Office hours are Monday-Friday, 8:30-5:00 most days however there will be the need to flex this schedule on occasion.
In-person visits to child care programs are required. Qualifying candidate must have a valid driver's license and own car with valid insurance.

20-25 hours per week as needed with flexibility of scheduling. Contract period expires June 30, 2021. Maximum contract payment: $30,105. 
As this is a contract position, agency employment benefits are not offered.

Interested candidates should email their resume and cover letter to CCRR Executive Director Vicki Caramante at vickic@rocklandchildcare.org by 5:00 PM, Monday, January 4, 2021. Resumes received after this deadline will not be considered. 
---
Seeking Early Childhood Certified Teachers
Seeking enthusiastic and effective early childhood teachers to provide direct instructional services to four-year-old students in PreK classrooms for the 2019-2020 school year in Rockland County, New York.
Candidates must possess a current New York State Teaching Certificate in:
Early Childhood (Birth - Grade 2);
Nursery, Kindergarten and Grades 1-6 (N-6);
Prekindergarten - Grade 6 (P-6);
OR
Students with Disabilities (Birth - Grade 2)
Community Based Organizations (CBOs) are independent organizations that contract with Rockland County school districts to provide free pre-K programs to four-year olds. The nearly 40 sites in Rockland offer diverse options for families across seven school districts. CBOs may range in size from having a single pre-K class to several classes. Each CBO employs its own teachers (they are not employees of the school district). Interested teachers may submit a resume and documentation of New York State Teacher Certification to info@rocklandchildcare.org
Child Care Job Bank:  If you are looking to work in a child care program or hire staff for your program, please contact Elaine Trotta and ask about our Job Bank.
Volunteering: Child Care Resources of Rockland (CCRR) accepts volunteers year round to work primarily in the Administrative Department. Volunteers will help with a variety of tasks including mailings, copying, filing and data entry. We accept volunteers for school required community service and court ordered community service. If you are interested in volunteering for Child Care Resources of Rockland, please call (877) 425-0009 x630 or email karenr@rocklandchildcare.org.
Tales for Tots: Young children are receiving a head start towards emerging literacy because we know that children who are read to become readers. They have a greater chance to succeed in school, build positive self-esteem and become productive workers. Child Care Resources of Rockland recruits and trains volunteers and gathers funds to purchase appropriate books for the volunteers to use at the child care centers and then leave for the children's continued enjoyment. For more information on becoming a Tales for Tots volunteer and read to children in child care programs, please call Marcia Scheer at (845) 362-1429 or email marcias1020@yahoo.com.
Intern Opportunities: Child Care Resources of Rockland accepts college students who are looking for intern opportunities for their degree programs. For more information about becoming an intern please call Karen Ross at (877) 425-0009 x630 or send an email to: karenr@rocklandchildcare.org.