Executive Director's Message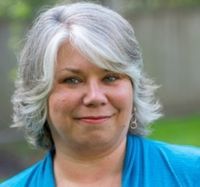 No one could have imagined the year we had. Most times, global crises seem far removed from our daily lives; not this pandemic. It affected our lives in microscale – routines to which we had become accustomed were disrupted or disintegrated. Human contact became dangerous, so we stayed away from friends and family. Personal protective equipment (PPE), cleaning supplies, and even food became commodities in high demand.  
For those who could, working from home offered its challenges as children sat next to us on video calls with teachers and classmates. For those who worked outside the home, arranging for and affording child care became the priority. And while incredible federal and state investment had been made in supporting children and families through funding child care tax credits and tuition scholarships for essential workers, many families still found difficulties accessing these supports. 
Child care providers, themselves essential workers, remained open to care for children, even in the face of their very real concerns about the virus. Enrollment shrunk because of staffing challenges, social distancing requirements, and families afraid to or who could no longer afford to send their children to care. Providers' costs increased with the additional sanitizing and PPE requirements. 
Unfortunately, a total of 21 child care providers across all modalities closed permanently: 3 Centers, 7 family, 9 Group, and 2 School Age.  Even so, we have perservered. With the help of federal CARES Act funding, tuition scholarships were distributed, keeping children in care and providers receiving some income. Many providers accessed Re-opening/Restructuring grant funds to cover the costs of PPE and additional materials and supplies to accommodate social distancing. 
This Annual Report, in addition to presenting our financial statements, is a story of a year like no other. 
Vicki Caramante, Executive Director
---
Message from the President
When a state of emergency was declared here in New York on March 7, 2020, little did we know how profoundly all of our lives would change over the next several months.  Schools abruptly closed.  Businesses were forced to find new ways to operate, with many forced to close.  Too many of our previously employed neighbors were furloughed or without a job.  Food insecurity remained in too many parts of the region.  
Despite all that we have been through, and recognizing, of course, what still remains before us, Child Care Resources of Rockland (CCRR) continued to do, as it has always done.  We advocated for children and their families despite not knowing what each day would bring. This was a difficult year.  Faced with program closures, staff shortages, difficult questions often with difficult solutions, CCRR continued to remain focused on the well-being of children and their families.  We found resolutions for families who had no-where else to turn, provided guidance and training to providers, and through various platforms, including hosting a Legislature Day to speak directly to those in power. We strongly and succinctly advocated for the needs of the families in Rockland.
CCRR continues to be a vital resource to the Rockland community and as President of the Board of Director's, though a rough year, I am proud to say CCRR had a productive year of challenges, productivity, and growth. - Stephen M. Fromson, Esq., President Board of Directors
"You should never view your challenges as a disadvantage. Instead, it's important for you to understand that your experience facing and overcoming adversity is actually one of your biggest advantages." - Former First Lady Michelle Obama
Stephen M. Fromson
Board President
---
Our Board of Directors
With the guidance of the Board of Directors, CCRR creatively carried out its mission, vision, and Strategic Plan.  We strengthened those connections through our memberships with the Rockland Business Women's Network and Rockland Business Association.  
We welcomed new Board Members Chris Figluizzi as of July 1st and Dr. Sarah Chauncy as of January 25th. We offered our sincerest thanks to Ann Taylor for her term of service ending June 30th. Ann was involved with CCRR over four decades, served three terms on the CCRR Board, serving as President twice, and serving on every Executive Director Search Committee since Phyllis Helbraun's retirement.
___________________________________________________________________________________________________________________________________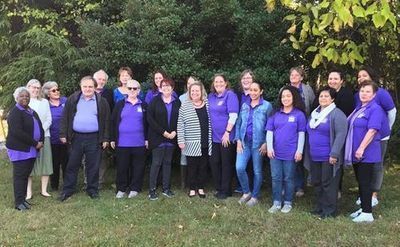 Our Staff
CCRR's staff is the essence of this organization. Their passion, knowledge, expertise, and dedication to CCRR, its mission, and to children is unparalleled.  
In the last year, we bade farewell to our long-serving Health Care Consultant/Nurse Kristan Saunders, RN, while we welcomed our new Infant Toddler Mental Health Coordinator Simone Smith and a new Programs Standards and Support Specialist/Registrar Danielle Ball. Stay up to date with what is happening with CCRR Newsletters. 
_______________________________________________________________________
Simone Smith

Danielle Ball
Finance and Human Resource Services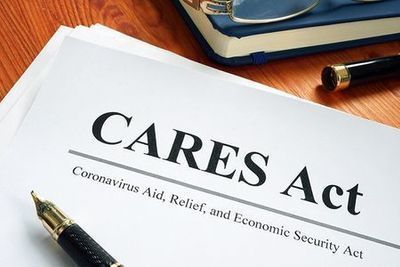 Tiffany Davis, Director
Kathleen Siuro, Finance Coordinator
Financial and Human Resources Services (FHRS) is responsible for the overall financial and employee management of the agency; developing, managing and tracking our agency and individual contract budgets; processing tuition scholarships for families; administering employee benefits; payroll; and facilitating both internal and external trainings. 
Additionally, FHRS took very seriously the task of transitioning staff back into the office after the pandemic shifted everyone to working remotely.  Staff returned to work on a part-time basis at the end of the last fiscal year.  CDC recommendations and federal requirements were followed and monitored throughout the year.  Everyone was equipped with their own personal cleaning supplies and masks were available on-site.  By the end January 2021, all staff had transitioned back to the office on a full-time basis and everyone remained happy and healthy for the remainder of the fiscal year.
FHRS worked in tandem with our Family, Community, and Operations Services Department to diligently and quickly account for, receive, and distribute CARES Act funds.  Click the button below to view the FY 2020-2021 Financial Position report.
Family, Community, and Operations
Karen Ross, Director 
Christina Espindola, Resource and Referral Coordinator 
Lisa Kreisel, Marketing and Public Relations Coordinator 
Jenine Valentino, PreK Coordinator 
FCOS is responsible for providing child care referrals for families looking for child care; information and resources for families and providers; connecting and educating families and community stakeholders; coordinating and managing events and fundraisers; marketing, communications, and publications; data collection and reporting; administering our Child Care Tuition Scholarship and Respite Services programs; administering Universal PreK; managing the technology and administrative needs of the board and staff. 
The pandemic deeply affected families' willingness/ability to access child care. 
Family and Community Connections 
CCRR holds contracts with the NYS Office of Family and Children's Services and with the Rockland County Legislature to provide funding for our resource and referral services – connecting families with child care that meets their needs. In FY 2020-2021, CCRR made 850 referrals to child care, 718 by telephone, the rest using our online form. Of those, 45 reported their income below 200% of poverty ($50,200 for a family a four), making them eligible for Child Care Subsidy, and 17 requested nontraditional hours (evenings, overnight, or weekends). 
These numbers decreased significantly in the first 2 quarters of the year compared to last year.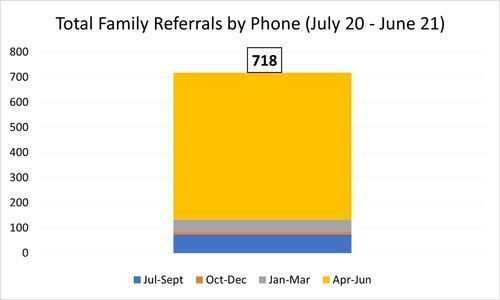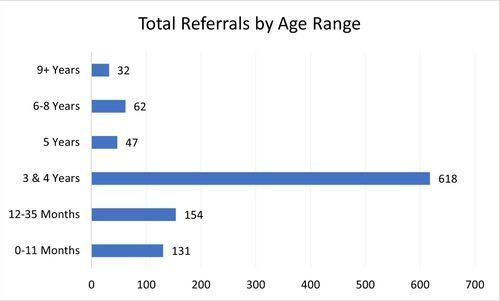 CCRR also holds a contract with the Office for People with Developmental Disabilities to assist families of children with special needs to access appropriate child care and appropriate respite care. For respite services, CCRR distributes a tuition scholarship to offset the costs of care for families. In FY 2020-2021, 5 children received scholarships for the entire year and 3 for part of the year because of COVID conditions. The total amount of respite funds distributed in FY 2020-21 was $26,869.                                                                                                                                                                                                                                   ________________________________________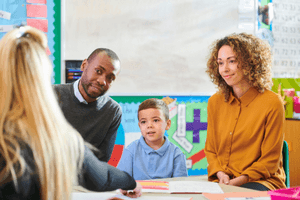 Parent and Community Engagement/Marketing and Communications
Engaging our families and the wider community helps them learn about and understand critical child care and child development issues. During the pandemic, much of our external community engagement was curtailed; however, the number of telephone calls CCRR staff fielded in the fiscal year was approximately 3270; the vast majority of those calls were between 5 and 15 minutes each. Each of those calls represents a critical need for quality child care in Rockland County. 
In light of COVID, we continued our efforts to increase our engagement through virtual practices including Zoom meetings and trainings, social media marketing and engagement, and email correspondence. As a result, we saw our followings increase across the board. We did find that some months, virtual exhaustion set in, while in other months engagement on social media was high, leading to higher brand visibility across the board.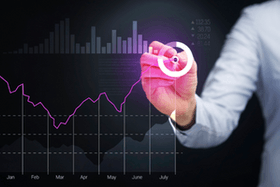 Looking forward, we will honor the retirement of Karen Ross and promotion of Christina Espindola by rededicating this department as the Family and Community Engagement Services Department (FACES). We will bolster our efforts to engage families, community organizations, elected officials, businesses, school districts, and other stakeholders to educate, inform, and advocate as we strengthen child care in Rockland. In particular, we will improve data collection and analysis with the hiring of a Data and Operations Associate thereby allowing us to determine best practices to cultivate our target audiences and improve the delivery of our services.
Prekindergarten
For almost 25 years, CCRR has coordinated PreK in Rockland for seven of Rockland's eight school districts. CCRR manages the application and placement process, compliance, and provides technical assistance for teachers on the classroom environment and curriculum, meeting NYS OEL's guidance for, "…purposeful, play-based instructional strategies that assist children in developing critical foundational skills."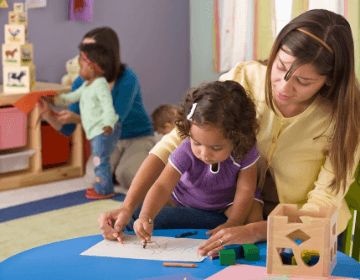 Due to the pandemic, only 740 of our 842 PreK seats were filled, with only one class of 44 students learning entirely remotely. These circumstances presented some challenges with conducting Brigance Screens, GOLD assessments, and, in some cases, delivering continuity of learning. CCRR's PreK staff worked closely with teachers, program directors, and school districts to assure students received an education comparable to a non-pandemic year, meeting and exceeding NYSED and school district expectations. In fact, 99% of PreK students showed significant improvement in all assessment areas. 
PreK served as a vehicle for students and their families to remain engaged and connected with the larger community. Program staff were able to support families in non-traditional ways, assuring they had access to other community supports.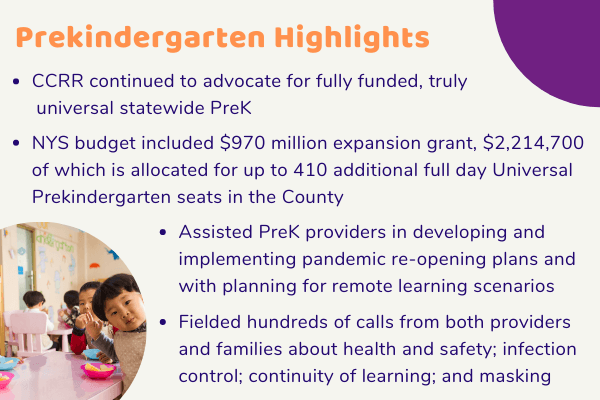 ______________________________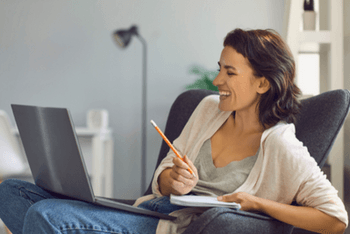 Program Standards and Professional Development 
In May 2020, as CCRR faced significant budget cuts which necessitated the downsizing of our staff. Regretfully, the decision was made to eliminate our Professional Development and Quality Enhancement Services Department. Ultimately, this department was merged with the Program Standards and Support Services Department, now known as Program Standards and Professional Development Services. 
During the height of the pandemic, all training and professional development came to a halt. We pivoted to meeting with our child care providers weekly via videoconference. With no set agenda, providers were able to share their thoughts, concerns, questions, challenges and successes with one another, developing a support system upon which providers came to rely. As time progressed, these moved to monthly sessions where technical assistance was also provided; with a summer break, providers are happy to have these sessions continue. 
In early winter, we began conducting virtual training that met the need for training requirements. Kristin Saunders was designated a content-area specialist and conducted three virtual trainings about infection control; Jenny Spampinato became a credentialed trainer. 
As the year progressed, we added virtual training on topics such as adverse childhood experiences (ACES); child abuse and maltreatment; childcare regulations; supervision; breastfeeding and nutrition.  
__________________________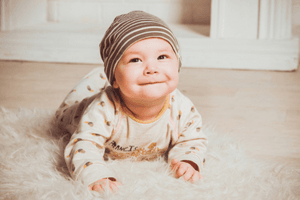 Infant Toddler Regional Network (ITRN) 
Jenny Spampinato, our Infant Toddler Specialist, continued her work to support and build capacity for child care providers serving the youngest of our children. She supported providers through virtual basic (BTA and intensive (ITA) technical assistance completing 166 units of BTA and 69 hours of ITA. Topics discussed during these included mindfulness, wellness and self-care, and resilience.   The Infant-Toddler Network Meetings under the New York State Training and Technical Assistance Professional Credential, allowed CCRR to offer virtual professional development for providers and give them continuing education units. Jenny also continued facilitating the Better Baby Care Campaign meetings quarterly and provided updates to providers in the county via email.  
Jenny also supports our Creating Breastfeeding Friendly Communities grant from the Rockland County Department of Health. This grant has been useful in  reaching providers, introducing the Infant Toddler Resource Network, and offering services.  Because of this outreach CCRR was able to successfully relaunch the Caring Spaces Endorsement, a three-tiered approach to measuring quality in infant and toddler environments and continue to help providers grow.
Infant/Toddler Mental Health Consultants (ITMHC) work with adults caring for infants/toddlers to improve strong relationships between teachers and children. An intentional focus on the relationship among infants and toddlers through consultation improves overall educational outcomes, social and emotional health, and helps build resilience. Observations are conducted and discussed with the adults, followed by assessments and evaluations.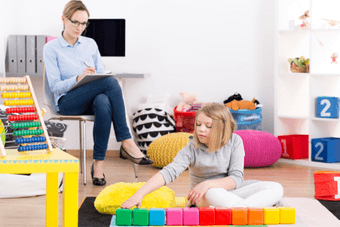 Outreach through flyers, email blasts and networking was  followed up by video conference introductions or telephone conversations. In May 2021, Red Owl Academy signed on; Simone is now working in their infant classroom and toddler classroom. 
Common concerns that seem to impact sign-on include the stigmas related to anything labeled "mental health," as well as the concern that the project llimits observations to children under age 3.  ITMHC network has heard these concerns across the board and is in the process of developing a plan to better market the project and is considering extending the service to children through the age of 5.
_______________________________________________________________________________
Program Standards and Support Services
Elaine Trotta, Director of Program Standards and Support Services
James Callahan, Standards and Support Specialist
Ines Ortiz, Legally Exempt Enrollment Coordinator
Teresa Ortega, CACFP Coordinator
Alice Rosado, Standards and Support Specialist
Edna Saravia, Program Standards and Support Services Coordinator
Registration and Legally Exempt Enrollment 
The New York State Office of Children and Family Services has strict regulations for all four regulated early care and education and after school care modalities. The registration team at CCRR is, Edna Saravia, Jim Callahan, Alice Rosado, and Danielle Ball.
During the early months of the pandemic, OCFS waived the majority of on-site visits. Beginning in late Q3, OCFS allowed CCRR to re-start on-site visits. In the meantime, the registration team continued their outreach to assist 27 family providers and 34 after school centers with re-opening. In Q4, the team renewed, announced and unannounced inspections, offering technical assistance on topics such as the latest COVID health and safety practices. 
Those child care situations exempt from being regulated by OCFS are enrolled and monitored by our Legally Exempt Coordinator, Ines Ortiz. Frequently these situations consist of a grandparent watching children during extended hours or overnight. Legally exempt parents must qualify by being income eligible with the Rockland County Department of Social Services Subsidy Unity. This year, our Legally Exempt Coordinator received 11 new applications and 18 renewals, down from 87 providers in the previous year.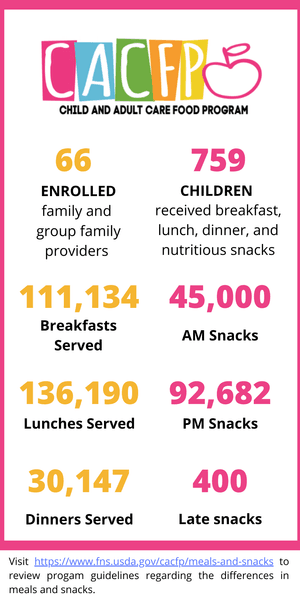 Child and Adult Care Food Program (CACFP)
The Child and Adult Care Food Program, CACFP, helps providers and programs feed children in care by reimbursing some or most of the cost of food. CACFP during COVID has been very challenging for child care providers. For years providers have been encouraged to serve meals family style and to use mealtimes as teaching moments to help the children learn how to serve themselves, share, and socialize. During COVID, the focus shifted to offering meals safely. 
Due to school closures, many school age children were added to the providers' rosters. In the last 12 months CACFP reimbursed an average of 66 providers; they served an average of 759 children. These providers served each child a total of 111,134 breakfasts; 45,062 am snacks; 136,190 lunches; 92,682 pm snacks; and providers that accommodate late hours, served 30,147 dinners and 400 late snacks.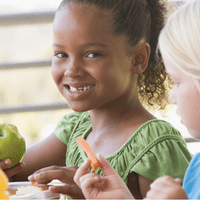 7/20 – 9/20 - average provider 63 - serving about 690 children
10/20 – 12/20 - average providers 67 - serving about 750 children
1/21 – 3/21 - average providers 68 - serving about 763 children
4/21 – 6/21 - average providers - 68 serving about 830 children
Health Care/Nursing Services 
Before COVID entered the lexicon, measles was the battle we fought. On March 16, 2020, that changed drastically. Our nurse spent countless hours, including evenings and weekends, researching, digesting, and disseminating pandemic guidance and information and providing technical assistance to child care providers and parents. This was accomplished by social media postings, email blasts, telephone, and videoconferencing.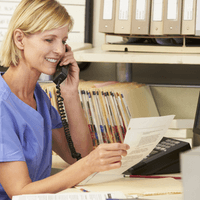 In consultation with providers, registrars/licensors, the NY State Health Department, OCFS, and the Rockland County Department of Health, procedures were initiated for tracking and documentation. 
All of the Program Standards and Support Services staff addressed questions about child care issues not only from child care professionals, but also from parents and the public at large. They helped to problem solve a variety of situations in order to improve the safety and quality of care in Rockland. As staff observed reoccurring trends in the field, they shared their concerns with other agency staff who then designed and presented professional development opportunities with a focus on ways of addressing these problems.
________________________________________________________________
Moving Forward 
As we look to 2022, we must learn from the challenges we faced, be resilient, forge ahead.  We must stay true to our mission and strategic plan. We must continue to be a voice for children and those who care for them. Every child, no matter the circumstances into which they were born, deserves a right start. Education opens incredible opportunities for success and for the future - theirs and ours. Investments in quality early childhood and school age care give children that right start. 
Education is for improving the lives of others and for leaving your community and world better than you found it.
- Marian Wright Edelman
---