Fiscal Year 2020-2021 Financial Position
The Financial and Human Resource Services team (FHRS) continued to monitor the agency budget to assess any monetary impact that delayed payments from funding sources could have on the agency.  Payment delays were immediately addressed resulting in budgets remaining on track for the course of the fiscal year. 
Paycheck Protection Program
Throughout May and June 2020, FHRS worked to fully reconcile the received Paycheck Protection Program Loan. The agency had been awarded a $210,600.00 PPP Loan and with thorough tracking the agency was forgiven $170,983.83 (81.4%). 
CARES Program
FHRS also collaborated with the Family, Community & Operations Services team in order to facilitate the CARES 2 and 3 programs over the course of 15 months. They worked collectively to reconcile the completed CARES 1 program from the previous fiscal year in order to close out the program with OCFS.
Thirty-three of our providers participated in the CARES 3 program enabling us to distribute $470,669.34 tuition scholarships to over 73 children, helping 56 families cover child care tuition costs. This averaged to about $6,448 per child for the program year.  Additionally distributed was  $426,451.49 in CARES 2 restructuring grants to 31 providers, for a total of $897,120.83 being processed by CCRR between these two programs.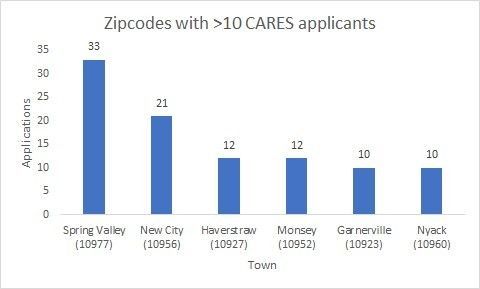 Child Care Tuition Scholarship  
Child Care Tuition Scholarship funds have an enormous impact on the lives of children and their families. CCRR is grateful to again have received a United Way of Rockland County (link) Community Impact Grant of $18,750 for FY 2020-2022.  This two-year allocation supports this Scholarship fund, and $24,204 remains in the Jane Brown Tuition Scholarship. 
Unfortunately, CCRR's Scholarship fund is desperately in need of replenishment. United Way grant funds have diminished over the past three years, and we were unable to hold an in-person scholarship fundraiser during the pandemic. 
Fortunately, temporary assistance came in the form of the federal CARES Act tuition assistance mentioned above.  This assisted families of essential workers earning up to 300% Federal Poverty Level, or $78,600 for a family of four. The need is so much greater - over 150 families applied for CARES Act scholarships only to be told they did not qualify.  Of those, 26 were over income, and 102 didn't follow through or complete the application; 8 of these families qualified for Child Care Subsidy through the Department of Social Services.   
CCRR Tuition Scholarships helped offset reductions by providing subsidies to 11 applicants. We consistently have a waiting list of ten to twelve families for this program, and an even greater number of families who choose not to add their names to the list because of the lack of scholarship funding.  As has been mentioned often, the United Way identifies families considered Asset-Limited, Income-Constrained, and Employed in their ALICE Report; people like child care workers who "cannot always pay the bills, have little or nothing in savings, and are forced to make tough choices such as deciding between quality child care or paying the rent. One unexpected car repair or medical bill can push these financially strapped families over the edge. The future success of our communities is directly tied to the financial stability of these fragile ALICE households. which shows that a family of four with two children in care needs approximately $108,000 per year to just make ends meet. 
County Demographics 
In Rockland, 12.5% of our residents live below the poverty line. The median income in Rockland is $93,024, yet from the UWRC's ALICE Report we know almost half of Rockland's residents live in poverty or are asset-limited. We also know that the average cost of child care in New York is $15,000 for an infant and $12,000 for preschool child – twice as much as a SUNY college tuition – creating a gap families can find impossible to overcome. The average cost of child care in a center-based program in Rockland is similar. We are in the process of conducting our Salary/Tuition Survey and have found that on average, tuition for a 3-year old in a center-based program is $14,820. 
Fundraising
With the focus on crisis response, the inability to plan in-person events, and our collective community focus on managing the pandemic, our annual fundraising income decreased dramatically. However, our Football and Super Bowl fundraisers were again successful, raising at total of $19,700. Our Annual Appeal garnered $4251, and $200 was donated to the Jane Brown Tuition Scholarship Fund. 
Advocacy 
CCRR has been and remains a leader among statewide and county-wide advocates. In partnership with scores of nonprofits across New York State and Rockland, CCRR has strong history promoting the importance of access to quality child care for both employees and employers while recognizing child care providers as businesses themselves. we spoke out about the needs of children, families, and the nonprofits themselves. 
CCRR's impact is widespread. At the statewide level we successfully advocated for increased investment in Universal PreKindergarten; restructuring and reopening assistance for child care providers; and funds for Personal Protective Equipment (PPE). We participated in several virtual conversations with our federal Senators Gillebrand and Schumer and Representative Mondaire Jones. The results were historic investments in child care and in families; in fact, funding for child care was included in every single relief federal package.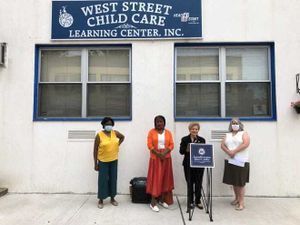 Locally we worked with our nonprofit, government, business, and elected officials to promote the availability of Child Care Subsidy funding through Rockland County Department of Social Services; participated in a conversation with the Rockland Business Women's Network; and assisted child care providers in their advocacy efforts. In February, CCRR convened A Conversation About Child Care with our NYS Assembly and Senate representatives, Rockland Child Care providers, and parents who shared their challenges and their successes of the prior year and their thoughts on the future of child care as New York State officials prepared the 2021-22 State Budget. 
In cooperation with our partners at ECLC, NYAEYC, NAEYC, CCAoA, Winning Beginnings, Schulyer Center, RaisingNY, and PCANY, we continued to advocate at the federal, state, and local levels for smart, effective policies for children and families.  We were glad to see the release of the Governor's Child Care Availablity Task Force Report and look forward to collaborating on the implementation of those goals.
This advocacy directly translated to $$426,451 in Restructuring/Re-Opening Grants and $470,669 in tuition scholarship and an increase in Prekindergarten allocations of $2,214,700 for 410 additional full day Universal Prekindergarten seats in the County.  
Going forward, CCRR will continue advocating for: 
Early childhood education professional standards and salary equity 
Funding for human services, including COLAs  
Smart investments in children and families (See RaisingNY's website) 
Fully funded, truly universal statewide Prekindergarten  
Increased funding for R&Rs and for Nonprofits that reflect our true cost of providing services and allow for annual increases to meet increased costs of doing business 
We work hard to ensure long-term sustainability of our organization in order to best serve all of our constituents and have a responsibility to our funders, our donors, and the community. Learn more about our programs and services by reading our Annual Report Our IRS Form 990 is available upon request. We are available Monday-Friday, from 8:30 am-5:00 pm. Please give us a call at 845-425-0009 or send an email to info@rocklandchildcare.org
If you would like to make a donation to help support high quality child care, please visit our Donate page.  Thank you!