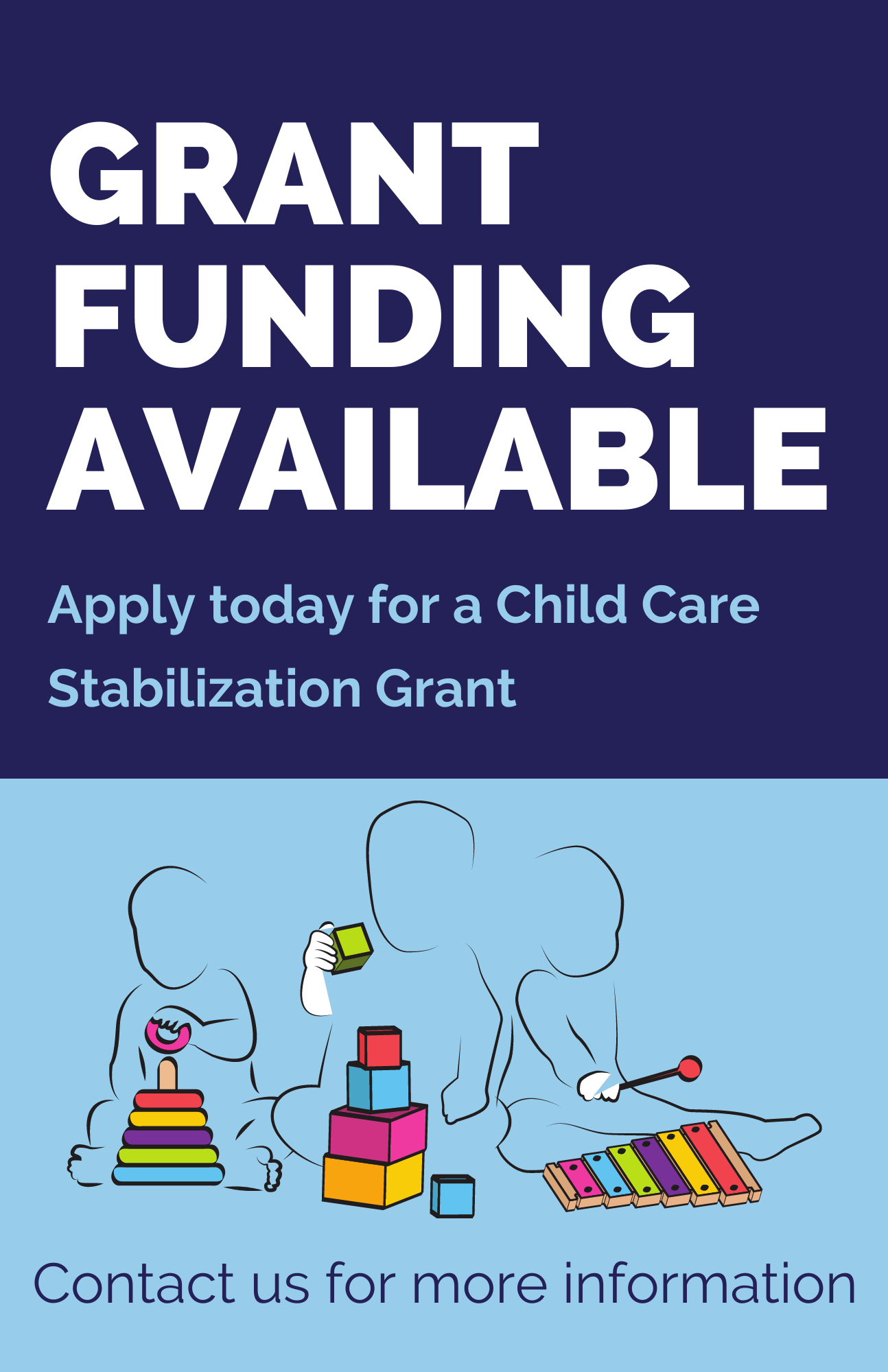 OCFS announced on August 3, 2021 the opening of the portal for child care providers to apply for Child Care Stabilization Grants. CCRR is here to help you if you need. To provide you with information about the grant, or to answer any of your questions, we will hold virtual Info Sessions on:
Wednesday August 11th at 1:30PM
Saturday August 14th at 11:30AM
Wednesday August 18th at 1:30PM
Saturday August 21st at 11:30AM
Wednesday August 25th at 1:30PM
Saturday August 28th at 11:30AM
Register for any one of the virtual sessions here. We will send you an email within one business day confirming your registration and sharing log in information.
Please know the grant is not a "first come-first-served" application; you can apply any time between now and November 30, 2021. For more information visit the OCFS Grant website. You can read the overview, Statement of Grant Opportunity,  read the Frequently Asked Questions, or create ny.gov account (required to complete the application). 
Once you have an "ny.gov" account, you will have access to the Stabilization grant application. Before you begin your application, please gather the following required information: your program's license/registration/enrollment or permit ID number, tax ID number (if applicable), your program's estimated monthly expenses. You must submit a separate application for EACH facility ID/permit/enrollment number. 
If you answer yes to all the questions below, your program is eligible to receive these funds: 
Is your child care program either an OCFS licensed/registered, DOHMH permitted Article 47, or an enrolled legally exempt group (enrolled with an enrollment agency)?
Was your license/registration/permit/enrollment issued on or before March 11, 2021?
Is your program currently open, or will your program be open by September 20, 2021?
If your program is currently closed due to COVID-19, will your program reopen within 30 days of your Stabilization grant application submission?
Is your program in good standing with OCFS or DOHMH (see the attached Statement of Grant Opportunity for the definition of good standing)?