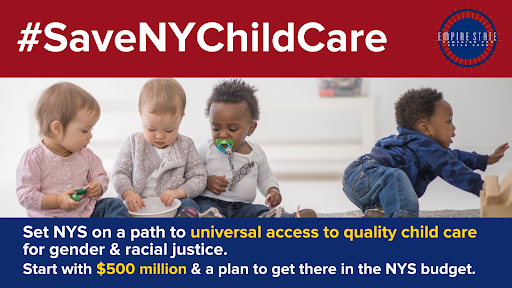 In my previous blog, I wrote about the importance of advocating for smart investment in child care and in families, particularly as New York State legislators grapple with creating a state budget for the coming year and work to plan for over $460 million in federal child care aid from the December Congressional stimulus package (without knowing about the adoption this past weekend of yet another stimulus package). CCRR was proud to facilitate a conversation between Rockland child care providers and parents with all of Rockland's legislators in the NYS Assembly - Assembly Members Lawler, Schmitt, and Zebrowski - and the NYS Senate - Senators Reichlin-Melnick and Skoufis (Assembly Member Brabenc had to reschedule at the last minute). 
On February 24th, we gathered via teleconference. Our Board President Stephen M. Fromson offered a warm welcome and opening remarks; thereafter, providers and parents shared their thoughts on child care, even prior to the pandemic, and their stories of how the pandemic has impacted their businesses, their employment, their families, and their livelihood.
Our legislators were reassuring, empathetic, and pledged to support budget items and policies that addressed providers' and families' needs. You can watch a recording of the session in its entirety here. We hope you are inspired by these advocates in action to share your stories with all of us. 
Child care providers, families, businesses, nonprofits, and schools all have a vested interest in advocating for a New York State budget that prioritizes child care. The legislature must adopt a budget by April 1, 2021 - we all have 23 more days to call, email, and use social media to speak up for the children. 
On Monday, March 26, 2021, we'll be joining the Empire State Campaign for Child Care on social media to urge state leaders to #FundChildCare. I hope you'll participate. Sample tweets and more details can be found here. Together we can #SaveChildCare.