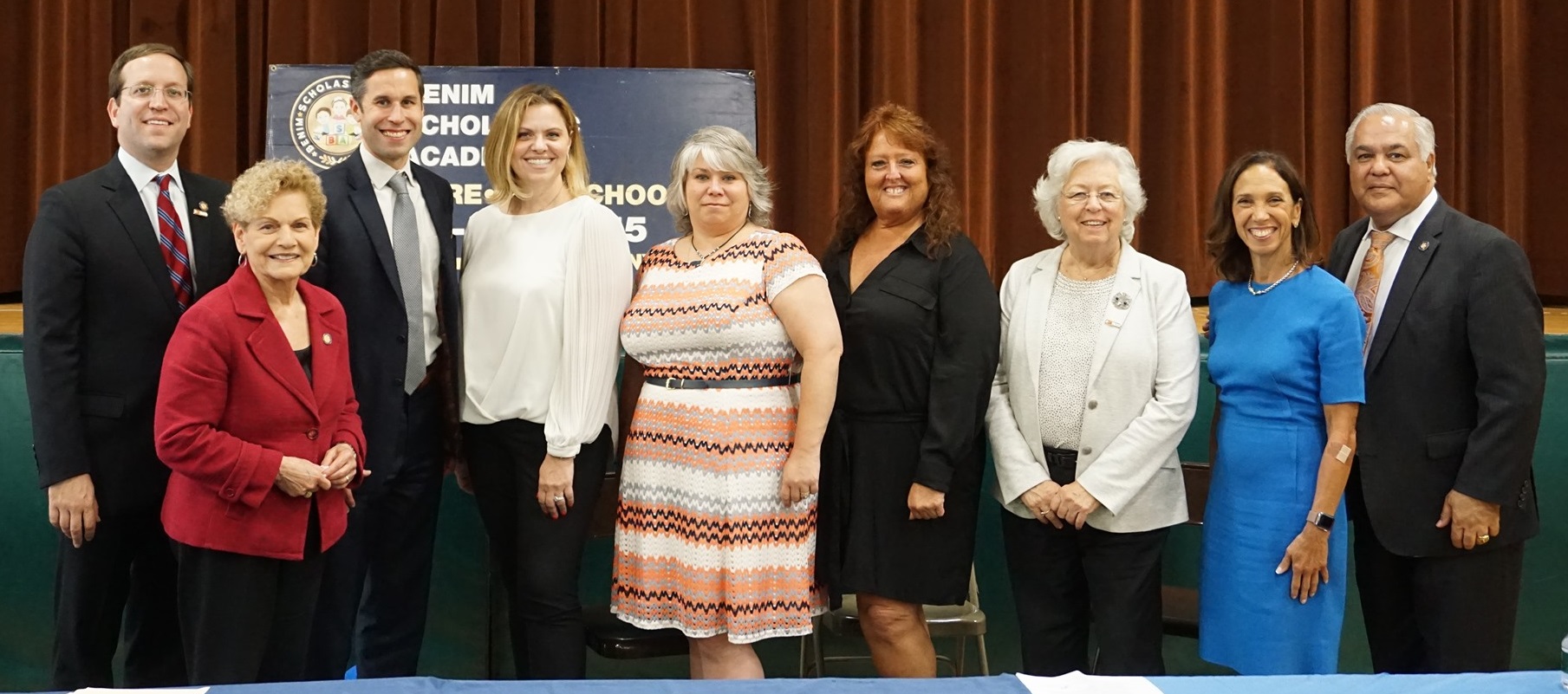 Last week I was honored to participate in a discussion about the need for a truly universal statewide prekindergarten program (please see article published by the Rockland/Westchester Journal News: Assembly Democrats want full-day Pre-K statewide. Here's why.). Facilitated in Rockland by Assembly Member Ken Zebrowski and hosted at the Benim Scholastic Academy in New City, state legislators from Rockland and Westchester toured the school and later sat down to discuss what is needed to get every 4-year-old in New York State into a Prek seat.
Assembly Members Ken Zebrowski and Ellen Jaffee, Dr. Lana Benim (Benim Scholastic Academy owner), Jenine Valentino (CCRR's PreK Coordinator), and I were joined by four Westchester Assembly Members. David Buchwald, Sandy Galef, Amy Paulin, and Nader Sayegh began their day in Yonkers and White Plains to understand how PreK works in those areas and to learn about the program's various funding sources.
The names of each state-funded PreK program are different, as are the amounts of funding; most just call it UPK. Universal PreKindergarten is the original 2.5 hours/half-day program, funded at about $240 per child per month. Four districts in Rockland have a grant-funded State-Wide Full-Day PreK, which is five hours per day (not really full-day) funded at about $750-$800 per month. As many know, child care averages about $300 a week. You can see the disparity.
In Rockland, about 35 percent-40 percent of eligible 4-year-olds are enrolled in a state funded PreK program – in other words 60 percent-65 percent of 4-year- olds are not enrolled in a state funded PreK program!  Again, you can see the disparity.
CCRR has been advocating for truly universal state funded prekindergarten for longer than the eleven years I have been involved with the agency. Together with other advocates across the state and with the support of many state legislators, as well as the State Education Department, more children have access to PreK every year - but not every 4-year-old.
In 2014, much was made of NYC's PreK expansion, made in part with a $300 million state budget allocation. NYC's government adds more money to the program so all 4-year-olds and even 3-year-olds, have PreK seats (one city, one school system). That year, the entire rest of NY State was allocated only $40 million to the remaining 700+ school districts, awarded through a competitive grant process.
Forty-three members of the NYS Assembly recently sent a letter to Governor Cuomo calling for him to fully fund PreK. We hope others will sign on and together  with the support of early care and learning  advocates, parents, and child care providers, we will see PreK for all in 2020-2021!
Sign up to receive Vicki's blog! Click here.