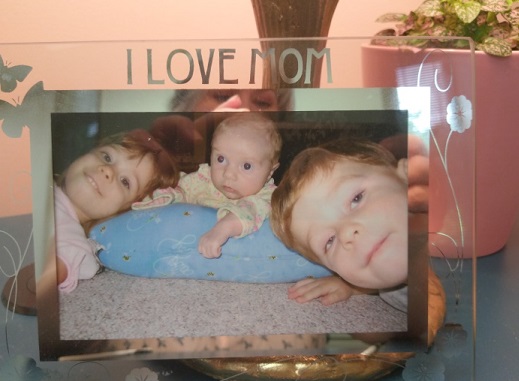 This photo of Vicki's three children sits on her desk at CCRR.
Yesterday was Independence Day, the day America celebrates becoming a sovereign nation. News reports barely mentioned the reason why we celebrate, focusing on the big fireworks displays and families spending time together at picnics and barbecues. I started thinking about the colossal effort it took to actually become independent – the struggle, the years, the help from others. And then I watched my teenagers (I have three, two of whom just graduated high school and are headed to college in a few weeks) announce their plans to spend the day swimming or boating with friends. I miss them when they're not home, although I am incredibly proud of the adults they are becoming, and I marvel at the independence they have gained as they've grown.
Independence is no small thing for a person, especially a little person. Watching my children walk out the door, I couldn't help but think back to when they were infants, then toddlers, holding their own bottles and feeding themselves (oh, what a mess!), taking their first tentative steps. All of a sudden they wanted to swing higher, climb higher, run faster. Of course, as a mom, I didn't want them to get hurt, yet instinctively I knew they had to fall in order to get up, dust themselves off, and get back to it. Some of those times were harder than others, especially when they needed a big hug and quiet words of reassurance.
Children love to learn from us, to emulate us, to always reach higher. Giving them the tools to become more and more independent can be hard. Start by validating feelings ("You seem frustrated."); allowing them to make choices (Would you like to wear the red shirt today, or the green shirt?"); or to have a say in setting their own boundaries ("I don't want to read now."). Allow them to test their skills, even if the task is something you might easily complete (think spilled milk). Praise their successes and talk through mistakes. Speak with your child care provider about how they foster independence so your actions complement one another. Know that we are all in this together and that there will be wonderful, prideful, moments along the way.
Want to read more? Click here, here, and here for a few articles I found insightful.