We look forward to celebrating with you in 2021 - please watch for new date.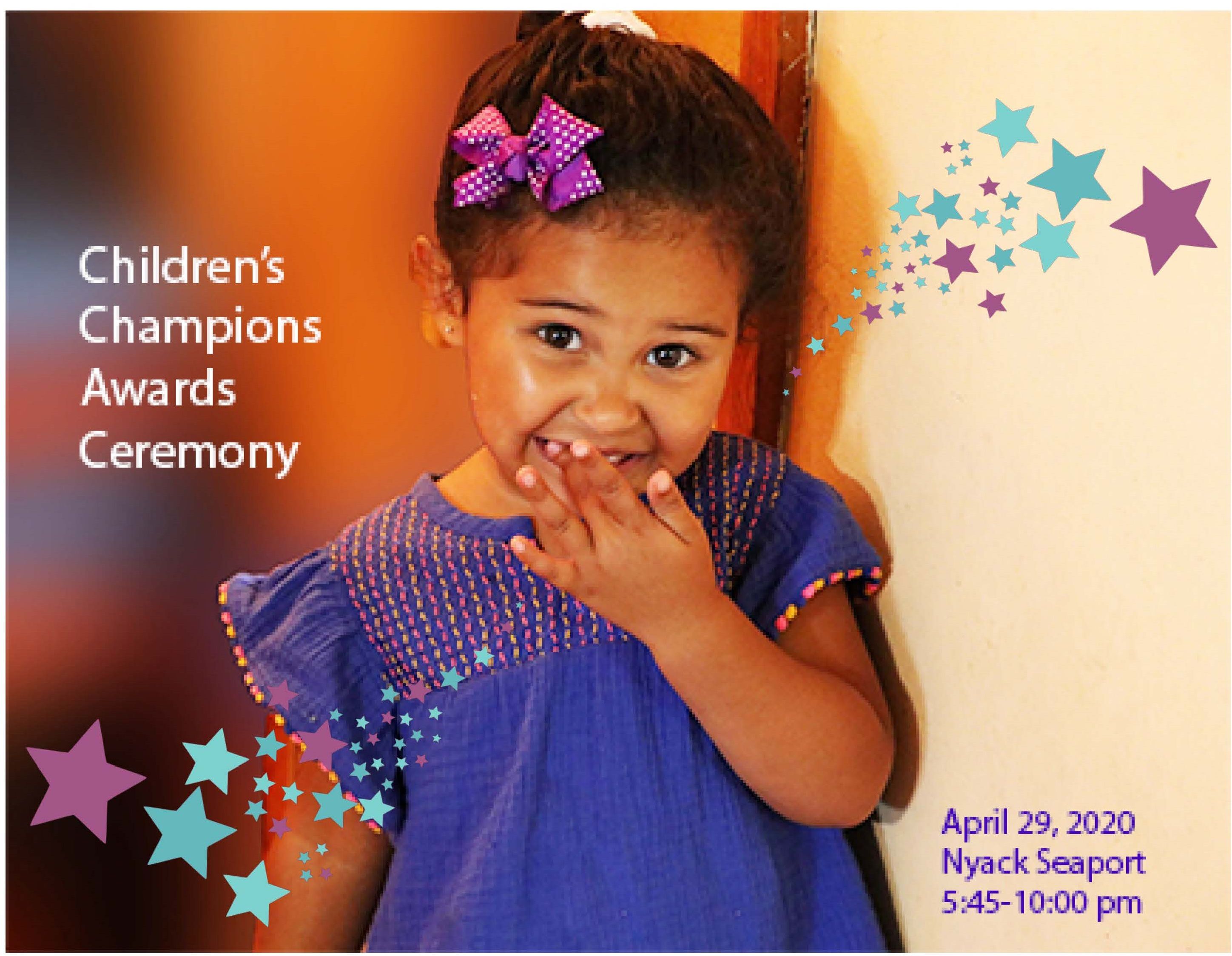 28th Annual Children's Champions Awards Celebration
DATE TBD | The Nyack Seaport, Nyack, NY 10960 
5:45 pm Awards Ceremony | 7:00 pm Dinner and Dancing 

Every year in April, the Month of the Young Child, Child Care Resources of Rockland honors a group of individuals for their outstanding service in working with young children and their families in Rockland County. Young children need champions – someone committed to making the world a more caring place, offering them and their families the opportunity to thrive. 
The 2020 Children's Champions
Phyllis Helbraun Award
Gail Golden, Volunteer, Rockland Immigration Coalition
It Takes a Community Award
Patricia Soriano Guzman, IBCLC, PMH-C, BSBA, Montefiore Nyack Hospital Prenatal Center
Champion in the Trenches Award
Denise Forsberg, Owner/Provider, Time In Child Care, Inc.
Rookie of the Year Award
Noelia O'Leary, Owner/Provider, Nelly's Nest
Dynamic Group Award
Peace Through Play Nursery School Staff
RSVP! Register now to attend the awards ceremony (no fee), the dinner ($65 adult/$20 child), or both. Click here!
Commemorative Journal: Reserve space now!
Children's Champion Award Categories
The Phyllis Helbraun Award is given to an individual for a body of distinguished service, over many years, to the early childhood or school age care community. This award is for someone who has improved the delivery of services for children on a countywide, state, or national level.
It Takes a Community Award is given to an individual who has made a significant contribution to improving the lives of children and families outside of the early care and education community. This awardee is an individual who has extended him or herself to make life better for children and families in Rockland.
The Dynamic Group Award is given to a group of individuals who have worked together as a team to improve the lives of children. This team of individuals has undertaken outstanding innovative projects and/or programs.
The Champion in the Trenches Award is given to an individual who works directly with children in a classroom, a family child care home or school age care setting. The awardee demonstrates his/her exceptional commitment to giving every child and family the opportunity to thrive.
Rookie of the Year Award is given to an individual who has entered the field within the last three years, has shown outstanding ability and demonstrated a commitment to a career working with children. The awardee is especially capable with children and shows evidence of professional growth.
​Children's Champions Roster: For a list of past recipients, please click here. 
---
Commemorative Journal & Raffle - Ad deadline: April 1, 2020 - Reserve ad space here.
Please Advertise Your Business by Placing an Ad in the Commemorative Journal or by Donating an Item or Service for our Raffle!
Have questions or would like more information? Please contact us: info@rocklandchildcare.org or 845-425-0009
Need help designing your ad? We'll create it for you at no extra charge! Contact Lisa: lisak@rocklandchildcare.org
Outside Back Cover: $200 | Full Page: $100 | Half Page: $75 | Quarter Page: $50 | Business Card: $25  |  Message/Greeting Line: $10