Win Grandstand Tickets!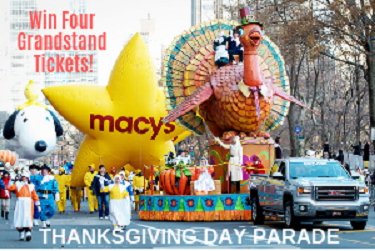 Here's your chance to win four grandstand tickets to the Macy's Thanksgiving Day Parade®: Thursday, November 28, 2019!
Win four (4) Central Park West Uptown Grandstand Tickets to the Macy's Thanksgiving Day Parade® featuring the best of America's high school and college marching bands, dazzling floats, our world-famous giant balloons and, of course, the one and only Santa Claus. With 3.5 million spectators lining the streets of NYC and over 60 million watching on NBC, you and three guests can be front and center to see this magnificent spectacle march on by! Value: Priceless

Tickets: 1 for $10 and 3 for $25. You can purchase them now!  Your tickets will be mailed to you.
Drawing: The winning ticket will be drawn at the Children's Champions Awards Celebration on Thursday, April 10, 2019.  The winner does not need to be present, but we do hope you will join us at this fun and inspiring event, an evening dedicated to honoring those who work tirelessly on behalf of children.
Learn more about Children's Champions and please mark your calendars for April 10. Need more information? Contact us: 845.425.0009, x0 or info@rocklandchildcare.org 
Thank you for supporting access to safe, quality child care for all children in Rockland County.