Pyramid Model - Exploring The Role of Schedules, Transitions....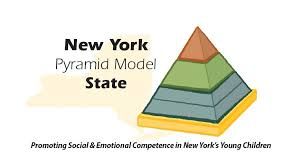 Exploring the Role of Schedules, Transitions, Expectations, and Rules in Relationship to Engagement and Challenging Behavior in Preschoolers Target Audience: Administrators/Teachers/Caregivers of children 3 – 5 | OCFS: 1, 3 | CBK: 4.2
"Why Don't They Follow The Routine? Why Don't They Behave During Transitions? Why Do They Forget The Rules?" If you regularly ask yourself these questions, join us to explore the importance of promoting child engagement, decreasing challenging behaviors, and setting children up for success through creating high quality supportive environments.