Our Annual Meeting will take place on Friday, June 7, 8:30-10:30 am.
Rockland Community College, Ellipse Room, Technology Center
145 College Road, Suffern, NY 10901
Please join us! Online registration is closed, but you are most welcome to attend! See you on Friday, June 7, 8:30 am.
Special Presentation: Increasing Capacity for High Quality Infant Toddler Care
Infant Toddler Provider Networks offer professional development education and training to help improve caregiver practices, and the overall quality of each infant and toddler's developmental experience.  Please join us to learn about the importance of the Infant Toddler Provider Network in Rockland County, and to see how we are working to ensure all children have access to safe, quality care and learning experiences. 
 
We always look forward to fruitful discussions about how we as a community can best serve the children of Rockland County and hope to see you on June 7th!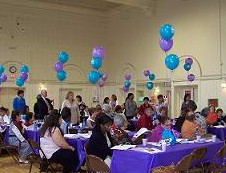 Every June, Child Care Resources of Rockland holds an annual meeting that is open to the public: families, early childhood professionals, businesses, legislators and other interested individuals. At this meeting we provide our most recent annual report and introduce the new year's Board of Directors. Additionally, we invite a prominent community member to speak on issues that especially effect children and families in Rockland County. Please join the business leaders, educators and the elected and appointed officials of our county in an exciting, thought provoking discussion about balancing work and family needs in our community.
Please join us - because every child matters in Rockland County! 
Both breakfast and discussion are always free of charge.