Our Annual Meeting is held on the first Friday of June
To receive news and event updates, please join our email list. Send an email to lisak@rocklandchildcare.org  to sign up.
Learn more about our work to ensure access to safe, quality child care for all children. At our annul meeting,  you will learn more about our programs and services, hear from community members and early childhood education experts. We also use this event to recognize newly accredited child care programs and welcome incoming CCRR Board of Directors. 
We always look forward to fruitful discussions about how we as a community can best serve the children of Rockland County and hope to see you June 2019.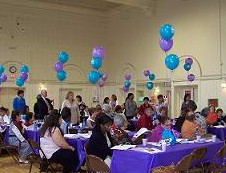 Every June, Child Care Resources of Rockland holds an annual meeting that is open to the public: families, early childhood professionals, businesses, legislators and other interested individuals. At this meeting we provide our most recent annual report and elect the new year's Board of Directors. Additionally, we invite a prominent community member to speak on issues that especially effect children and families in Rockland County. Please join the business leaders, educators and the elected and appointed officials of our county in an exciting, thought provoking discussion about balancing work and family needs in our community.
Please join us - because every child matters in Rockland County! 
Both breakfast and discussion are always free of charge.