Your invited to our Virtual Annual Meeting, Friday, June 5, 8:30-9:45 am.
Please register here.  We hope you will join us to learn how we are working to ensure all children have access to safe, quality care and learning experiences.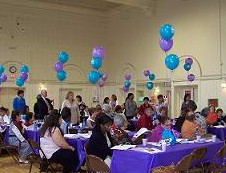 Every June, Child Care Resources of Rockland holds an annual meeting that is open to the public: families, early childhood professionals, businesses, legislators and other interested individuals. At this meeting we provide our most recent annual report and introduce the new year's Board of Directors. Additionally, we invite a prominent community member to speak on issues that especially effect children and families in Rockland County. Please join the business leaders, educators and the elected and appointed officials of our county in an exciting, thought provoking discussion about balancing work and family needs in our community.
Please join us - because every child matters in Rockland County!