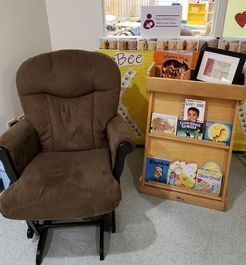 AMONG THE MANY CONSIDERATIONS for reopening a child care program during a pandemic, continuing to provide a safe space for breastfeeding mothers presented a challenge to Andrea Bogin, Director at Campus Fun and Learn Child Development Center in Suffern. (The center attained its Breastfeeding Friendly Child Care designation in 2018.) To minimize potential risk, Andrea only allows essential workers to use the building's main entrance. Parents, no longer able to enter the building or the classrooms, are now required to drop off and pick up their children at each classroom's back door.
When Andrea made the decision to reopen the center, she turned to CCRR for help with understanding and implementing the new rules and regulations mandated by the NYS Office for Children and Family Services.
"When I was speaking with Kristin, CCRR's nurse, and going over all the COVID-19 related requirements, it felt like I was going down a rabbit hole," Andrea said. "There was so much to consider."
During this unprecedented time, figuring out how to provide space to breastfeeding mothers required some creative thinking. But, it was important to Andrea to find a way to continue to offer that support. Again, Andrea reached out to CCRR.; and, after brainstorming with Kristin Saunders, RN, BSN, and Elaine Trotta, Director of Program Standards and Support Services, a solution emerged!
Together they recognized that breastfeeding mothers are essential and devised a plan that would safely allow these mothers to feed their children in a comfortable area within the center. Breastfeeding mothers may now enter the building as essential workers do, through the front door. Upon entering the building, they are required to complete a COVID-19 health check like all center staff or visiting essential workers. A small nook off the main hallway now serves as a cozy breastfeeding space. By accessing the main door and using an area in the main hall (closed to all other parents and visitors), there is no interaction with any of the children in the program.
Working to create a safe breastfeeding friendly nook during the pandemic exemplifies Andrea's dedication to her families and her commitment to supporting and encouraging breastfeeding. Her efforts do not go unnoticed. The parents at the center are equally grateful to Andrea for all that she does. Meghan P. Nolan, a parent who utilizes the breastfeeding nook was happy to share the following:
"As an educator, I know how Important routine is for childhood development, but as a parent of a toddler and an infant, I was extremely concerned about how daycare would work during a pandemic. I was particularly worried about how I was going to feed my (then) six- month-old daughter who had not taken to a bottle. With that said, being able to sit in a designated area in the Campus Fun and Learn Center to breastfeed has not only greatly reduced my own anxiety about the situation, but it ultimately made my daughter's transition to daycare as a whole much easier. "