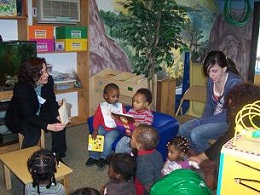 Distance learning is available 24 hours a day, 365 days a year, from Child Care Resources of Rockland and Smart Horizons. Courses are designed to help early childhood professionals complete OCFS training requirements. For a complete list of trainings, fees, and registration instructions, please click here.   
Only those distance learning workshops that have been approved by SUNY are acceptable for OCFS training credit. Click on Approved Courses. If you have any questions, call SUNY at (518) 443-5940.
Online training opportunities are also available on The Professional Development Program Child Care Resource Center. Funding for these workshops is sponsored by the New York State Office for Children and Family Services, funded by the federal Child Care and Development Fund and administered by the Professional Development Program, Rockefeller College, State University at Albany. These workshops have been approved and are available to all child care providers in New York State at no cost.
If you have any questions about distance learning/online training, please contact Debbie Silver at (877) 425-0009 x459 or email debbies@rocklandchildcare.org